A Department of Homeland Security program intended to give "trusted traveler" status to low-risk airline passengers soon will be extended to Saudi travelers, opening the program to criticism for accommodating the country that produced 15 of the 19 hijackers behind the Sept. 11, 2001, terrorist attacks.
Sources voiced concern about the decision to the Investigative Project on Terrorism, which issued a report Wednesday
on the under-the-radar announcement — which was first made by Homeland Security Secretary Janet Napolitano after meeting in January with her Saudi counterpart. According to the IPT, this would be the first time the Saudi government has been given such a direct role in fast-tracking people for entry into the United States.
"I think you have radical Wahhabism in certain elements in Saudi Arabia, and I think to be more lenient there than in other places would be a mistake," Rep. Frank Wolf told the Investigative Project on Terrorism. "There were 15 [hijackers] from that country, and there is a lot taking place in that region."
Only an exclusive handful of countries enjoy inclusion in the Global Entry program — Canada, Mexico, South Korea and the Netherlands. According to the IPT, some officials are questioning why Saudi Arabia gets to reap the benefits of the program, when key U.S. allies like Germany and France are not enrolled; Israel has reached a deal with the U.S., but that partnership has not yet been implemented.
Any Saudi travelers cleared through the program will be able to bypass the normal customs line after providing passports and fingerprints. The status lasts for five years.
The decision is a turnaround, the IPT notes, from when Saudi Arabia was briefly placed on a list of countries whose U.S.-bound travelers would face higher scrutiny, in the wake of the failed Christmas Day bombing attempt in 2009.
But Napolitano spoke highly of "the bond between the United States and the Kingdom of Saudi Arabia" when she announced the change in January.
"By enhancing collaboration with the government of Saudi Arabia, we reaffirm our commitment to more effectively secure our two countries against evolving threats while facilitating legitimate trade and travel," Napolitano said.
The Global Entry program was launched in 2008 to expedite pre-approved passengers through the airport customs and security process when they arrive in the U.S. The program is designed to weed out low-risk passengers and enable authorities to zero in on those who may be more likely to pose a threat.
But the program has sparked controversy in the past. Critics objected in late 2010 when Mexican citizens were included in the program, raising concerns that drug cartels would quickly learn how to exploit loopholes in the plan. DHS officials, however, insisted at the time that people who attain trusted traveler status don't get a free pass and are still subject to random searches.
Every legislator who treats gamers as rageaholic psychopaths just waiting to explode has literally no idea what video games are like today. If anything, games make young men fat and docile, because the vast majority of them now are designed to be virtually endless. 
With more and more resources going into costly development tools for graphics and animation, games started getting extremely short when the new generation of consoles hit around 2005. Since the cost of titles went from $50 to $60 at that point, gamers lashed out at developers, feeling they weren't getting their money's worth.
In response to this backlash, and with the rising prevalence of broadband Internet, developers focused on expanding multiplayer—more modes, more variety—to keep players interested. Enter Call of Duty: Modern Warfare, a 2007 first-person shooter, which popularized the mechanic of progression in multiplayer: instead of everyone being on a level playing field with static weapon loadouts, players could gain an edge by earning experience points to unlock weapons and perks, in the same vein as World of Warcraft and other RPGs. 
This effectively introduced the concept of "grinding," or performing a repetitive task over and over to achieve some minuscule reward after enough of it, to genres which traditionally did not include it. This tiny little incentive—cheaper to program than extra map designs or an extended single-player campaign—can add hundreds of hours to gameplay. Speaking from personal experience, the psychological motivation—mostly placebo, as the rewards are so marginal—is actually that powerful.
The result is that even with these violent shooter games, players become couch zombies, not berserkers likely to pop without provocation. "Shoot up a school? But I've got to get 28 more of these pins to get this badge, and I'm about to become level 43; once that's done in 12 hours, I've got seven new releases I've got to try out…"
Which leads to a second thought: a video game sin tax is exactly the kind of thing that proves the self-contradiction of Obamacare. We got a tanning bed sin tax from the bill; why not taxes on video games and soda? Nobody's ever died from a tanning bed, but there have been a few cases of young men dying from marathon gaming sessions. Blood clots, obesity—yikes! Quite the health epidemic we're seeing from gaming, not to mention the affront it is to "Let's Move."
Instead, we got a tax on… medical devices. We decided to lower the cost of healthcare by raising the cost of… healthcare. And this is what reveals the racket. Had the left been consistent to its own principles and placed a sin tax on games—not for violence, but for the sedentary lifestyle they demand—they would have taught millions of young people a direct lesson about the utter lameness and annoyance of Big Government. Their favorite studios could downsize or shut down thanks to lower profits, and that $60 copy of Dead Space 3 would now cost $65, just cuz Uncle Sam said so.
The left, therefore, chose to soak the parents caring for a child with omphalocele and respiratory disorders related to his NICU treatment, who years later need machines in their home to keep him alive as he sleeps. They chose to soak the elderly by shuffling gobs of money out of Medicare. It's becoming clearer to me that the whole conceit of Obamacare is pandering to the young by continuing the illusion that "other people" can pay for their lifestyles as long as possible. Young people, after all, will be voting in more future election than those oldy-oldersons.
The body of Al-Qaeda leader Osama Bin Laden was not buried at sea, according to leaked emails of intelligence firm Stratfor, as revealed by WikiLeaks.
Stratfor's vice-president for intelligence, Fred Burton, believes the body was "bound for Dover, [Delaware] on [a] CIA plane" and then "onward to the Armed Forces Institute of Pathology in Bethesda [Maryland]," an email says.
The official version is that the body of Al-Qaeda's top man, who was killed by a US raid in Pakistan on May 2, 2011, was buried at an undisclosed location at sea in a proper Muslim ceremony.
A federal judge has upheld a verdict that strips a Pennsylvania family of their grandfather's gold coins — worth an estimated $80 million — and has ordered ownership transferred to the US government.

Judge Legrome Davis of the Eastern District Court of Pennsylvania affirmed a 2011 jury decision that a box of 1933 Saint-Gaudens double eagle coins discovered by the family of Israel Switt, a deceased dealer and collector, is the property of the United States.

In the midst of the Great Depression, then-President Franklin Roosevelt ordered that America's supply of double eagles manufactured at the Philadelphia Mint be destroyed and melted into gold bars. Of the 445,500 or so coins created, though, some managed to escape the kiln and ended up into the hands of collectors. In 2003, Switt's family opened a safe deposit back that their grandfather kept, revealing 10 coins among that turned out to be among the world's most valuable collectables in the currency realm today.

Switt's descendants, the Langbords, thought the coins had been gifted to their grandfather years earlier by Mint cashier George McCann and took the coins to the Mint to have their authenticity verified, but the government quickly took hold of the items and refused to relinquish the find to the family. The Langbords responded with a lawsuit that ended last year in a victory for the feds.

Because the government ordered the destruction of their entire supply of coins decades earlier, the court found that Switt's family was illegally in possession of the stash. Even though they may had been presented to the dealer by a Philadelphia Mint staffer, Judge Davis agrees with last year's ruling that Mr. McCann broke the law.

"The coins in question were not lawfully removed from the United States Mint," the judge rules.

Despite this decision, though, the attorney representing Switt's family says the government has no right to remove their own items and transfer property back to the state.

"This is a case that raises many novel legal questions, including the limits on the government's power to confiscate property. The Langbord family will be filing an appeal and looks forward to addressing these important issues before the 3rd Circuit," Barry Berke, an attorney for the Langbords, tells ABCNews.com

Never trust your government.

Ever.
Emphasis on NEVER TRUST THE GOVERNMENT
(Source: thefreelioness, via rightsideofpolitics)
On Sept. 4, the Government Accountability Office (GAO) made a startling assertion saying that Obama circumvented the law when he summarily waived the work requirements in the welfare law. Perhaps not as shocking, few news outlets seem interested in the story.
In its Sept. 4 letter, the GAO found that Health and Human Services (HHS) should have formally submitted a letter of its intent to make the changes to Congress and the Comptroller General before any waivers can be legally issued.
The letter also said that the GAO had not determined if HHS had the legal right to even make such waivers available. The GAO is basically saying that the Obama administration is breaking the law with its waivers.
But, according to a review of the shocking news of the GAO's determination, neither CNN, nor CBS, nor ABC have bothered to report the story.
For their part, Republicans and GOP nominee Mitt Romney have maintained that Obama's gutting of the work requirements in the welfare law was an illicit move.
Former U.S. Representative Ron Haskins, who helped pass the work requirements back in 1996, feels that Obama acted improperly by summarily changing the rules without going through Congress saying, "But [HHS] didn't even consult with the Republicans. They knew the spirit of the law, and they violated that."
Ways and Means Committee Chairman, Representative Dave Camp, agrees with Haskins. Camp says that the move was an "end run" around Congress.
Obama, however, has defended his move even going so far as to claim that it was several Republican Governors that requested the change. 
At least one governor refuted the claim, though, saying his office was only asking what the rules were for waivers but that he had yet to actually request any.
More Americans rely on their families for assistance than the government, so federal officials have undertaken an effort to help people to apply for federal assistance.
"Given that only 15 percent of you turn to government assistance in tough times, we want to make sure you know about benefits that could help you," USA.gov announced today. The "government made easy' website has created a "help for difficult financial times" page for people to learn more about the programs.
The government got that statistic from a poll asking Americans what helps them the most during tough times. Here are the results:
Savings 44%
Family 21%
Credit cards/loans 20%
Government assistance 15%
"Government assistance comes in different forms—from unemployment checks and food assistance to credit counseling and medical treatment," USA.gov reminded readers.
This leg of the financial assistance push has ended. "Although our campaign to highlight Help for Difficult Financial Times has ended, we know that your struggles may continue," said USA.gov today. "We will keep updating the tools and information we provide to help you get back on your feet."
In an explosive new book revealing the depth of the corrupt dealmaking between unions and the Obama Administration, the insidious plot to use ObamaCare to unionize 21 million healthcare workers in his second term is finally laid completely bare. "Shadowbosses: Government Unions Control America and Rob Taxpayers Blind" is authored by Mallory Factor, a major power broker who has chaired the Economic Roundtable for the Chairman of the Joint Chiefs of Staff, led the 2009 Economic Summit for the U.S. House Republican Conference and Policy Committee, served on the Council on Foreign Relations, and co-founded the Monday Meeting, a nationally-recognized gathering of elected officials, journalists, business leaders and conservative authors.
Factor exposes the unions' illicit alliance with Barack Obama in no uncertain terms. Only 10% of healthcare workers are presently union members, and the scheme for the unions to take over the healthcare system was being hatched as early as late 2008, when Obama was not even president yet and was forming his transition team. Dennis Rivera of the SEIU, who later became Obama's point man in putting together the coalition to pass ObamaCare, sent a memo to the Obama transition team pledging the unions' support for passing healthcare legislation.
This begged the question: why would the unions support ObamaCare when most unions negotiate for the super-expensive "Cadillac" plans for their members? In some cases, unions even directly profit by negotiating for contracts that force states to purchase health insurance for government workers from union affiliated insurance companies. In Wisconsin, for example, buying insurance from a union affiliated provider (WEA Trust) cost the state at least $68 million more than the state's own health care plan for other government workers.
Factor provides the answer to the mystery by revealing what was in Rivera's memo: it stated that there were only 17.6 million health care jobs currently, but that the Bureau of Labor Statistics had projected that the nation would need 3.5 million more health care workers over the next few years and suggested that stimulus spending be spent for training new health care professionals with the involvement of unions like the SEIU in the training.
$10 billion in federal funds will be available over two years through the economic stimulus package for use in the health care workforce development initiative … Priority would be given to joint labor-management training and job placement initiatives, and consortiums involving nursing school, community colleges and worker organizations [i.e., labor unions].
For every million additional health care workers unionized in the 27 non-right-to-work states, the unions would reap $1 billion in dues.
That's quite a payoff.
Things were going smoothly until Obama attempted to have his cake and eat it too; his administration proposed paying for some of the cost of Obamacare with a tax on the "Cadillac" plans that were enjoyed by many union members.
The unions balked, so Obama came up with a neat solution: Obama promised the unions a seven-year moratorium on taxing the Cadillac plans—long enough for the unions to find a legislative solution to make sure that the tax on the plans never went into effect. That backroom deal in delaying the taxing of Cadillac plans increased the cost of Obamacare and cost the American taxpayers a cool $120 billion.
Now where could Obama hide that huge amount of money he lost? One way was to make deeper cuts to Medicare Advantage, which allows seniors to receive benefits from private insurers.
Nothing like pushing Granny over a cliff.
Just how slanted is ObamaCare toward the unions? Over half of Obamacare waiver beneficiaries are union members, even though just 13% of American workers are represented by unions, and 10 of the top 12 recipients of ObamaCare were either unions or public employee groups.
If there were any doubt just which group will be running the United States if Obama is reelected, that doubt has vanished. And Shadowbosses, which not only tackles the unions' unholy alliance with ObamaCare  but also strips bare the entire union agenda for taking over the nation, is a chilling and utterly compelling book that will finally alert the American people to the greatest internal threat to their liberty.
After ten months of investigating Obama campaign bundler and former MF Global chief Jon Corzine's role in the loss of $1.6 billion of customer funds, the New York Times is reporting that Eric Holder's Department of Justice is unlikely to file any criminal charges against Corzine or top MF Global executives.
As Breitbart News has reported, the case is riddled with serious conflicts of interest. 
The Government Accountability Institute revealed last month that MF Global was a client of Attorney General Eric Holder and Assistant Attorney General Lanny Breuer's law firm, Covington & Burling. 
Breitbart News discovered that the attorney representing MF Global Treasurer Edith O'Brien is Reid Weingarten, Eric Holder's "best friend" and his own personal attorney. Weingarten and Holder also co-founded a non-profit together, the See Forever Foundation.
MF Global's trustee for the Chapter 11 bankruptcy retained as its general bankruptcy counsel Morrison & Forester, Associate Attorney General Tony West's old firm.
Former FBI Director Louis Freeh is the trustee overseeing MF Global's bankruptcy. Freeh was a character witness at Holder's Senate confirmation hearing. Freeh also previously retained Holder to do legal work when he was General Counsel for MBNA America Bank in Wilmington, Delaware.  
To date, despite Barack Obama and Eric Holder's "get tough on Wall Street" rhetoric, the Department of Justice has not charged, prosecuted, or jailed a single Wall Street executive in the wake of the largest financial collapse in U.S. history.
As the New York Times sardonically noted in its report today, the "lack of charges in the largest Wall Street blowup since 2008 is likely to fuel frustration with the government's struggle to charge financial executives."
Indeed, even progressives are outraged by Holder's lack of Wall Street prosecutions.
As Richard Eskow of the Huffington Post recently wrote:
More and more Washington insiders are asking a question that was considered off-limits in the nation's capital just a few months ago: Who, exactly, is Attorney General Eric Holder representing? As scandal after scandal erupts on Wall Street, involving everything from global lending manipulation to cocaine and prostitution, more and more people are worrying about Holder's seeming inaction — or worse — in the face of mounting evidence.
As for Obama bundler Jon Corzine, he is already back trading with his family's wealth and considering opening up a hedge fund of his own.
he crony connections just keep on coming over at Eric Holder's Department of Justice.
Last week, the Justice Department announced that it will not prosecute Goldman Sachs or any of its employees in a financial probe. 
Could that be because the attorney for Goldman Sachs CEO Lloyd Blankfein was none other than Attorney General Eric Holder's "best friend" and former personal attorney, Reid Weingarten?
Or because in 2008, Goldman Sachs employees donated  $1,013,091 to Barack Obama?
Or because Goldman Sachs is the former client of Eric Holder's and Assistant Attorney General Lanny Breuer's law firm, Covington & Burling?
The conflicts of interest and cronyism at Holder's Department of Justice are so many that it took a 27-page report by the Government Accountability Institute to catalog them all.
And lest one forget: Holder's best friend Reid Weingarten—who previously represented child rapist Roman Polanski—is also the lawyer for former MF Global treasurer Edith O'Brien.  On Thursday, the New York Times reported that Holder's Justice Department will not be criminally charging Jon Corzine or any MF Global executives in that case either. 
Weingarten, who calls himself a "hard-core child of the '60s," apparently has a soft spot for Wall Street fat cats.  "I feel like I'm in the French Revolution, defending the nobility against the howling mob," Weingarten told Bloomberg in 2002.
So, to recap, Goldman Sachs, which donated $1,013,091 to Barack Obama in 2008 and whose CEO is represented by Holder's best friend, will not face prosecution.
Nor will Obama bundler Jon Corzine, who raised at least $500,000 for Barack Obama.  
Indeed, Eric Holder's Department of Justice has not charged, prosecuted, or convicted a single top Wall Street executive. 
Alas, pay-to-play justice and the Chicago Way are alive and well.
The documents, a series of e-mails among Energy Department staff members involved in managing the program, provide new details about the level of White House involvement in the controversial initiative. White House officials have said in the past that final decisions about which companies would receive the loan guarantees were made by career staff members at the Energy Department, not political appointees.
Administration officials said Wednesday that the e-mails show that the White House involvement was appropriate and that there was no pressure on agency officials.
That loan program, a signature piece of the Obama administration's effort to stimulate the economy, has become a major issue in this year's presidential campaign. Republicans have charged that the program wasted critical stimulus money meant to create jobs, spending it instead on ill-advised projects that benefited Democratic fundraisers.
The documents, provided to The Washington Post by Republican investigators for the House Oversight and Government Reform Committee, show that White House aides asked Energy Secretary Steven Chu to deliver a June 27, 2011, presentation to the president on the status of the loan program. The interest in a presidential briefing came as other senior administration figures were challenging parts of the program and debating whether the Energy Department was cutting deals that gave "unjust enrichment" to private companies.
An Energy staffer explained that the president "wants to know its status" so he could be prepared when the loan program came up "at official events and political events where he interacts with [the] business community and Congressional members." The e-mail from the department's chief of staff, Brandon Hurlbut, went on to say that many people attending such gatherings "have some affiliation or interest in the numerous applications received that involve substantial funds."
The documents do not indicate whether the presidential briefing took place as scheduled and, if so, whether Obama offered guidance on the program's future.
'A right to know'
On Wednesday, Rep. Darrell Issa (Calif.) and other Republican members of the House Oversight and Government Reform Committee wrote to Obama requesting a "full and complete" explanation of his involvement in the issue and seeking additional internal documents, including a list of all private individuals with whom the president met to discuss loan projects.
"The American people have a right to know the level of involvement you and other senior White House officials had in the loan guarantee program," the committee members wrote. "Your interactions with business leaders at political events affected decisions to give billions of taxpayer dollars in loan guarantees to green energy companies."
Judicial Watch has been confident for some time that the evidence shows that political appointees at the Holder Department of Justice (DOJ) were involved in the decision to abandon the DOJ's own voter intimidation lawsuit against the New Black Panther Party. And we've also been concerned that at least one high ranking DOJ official lied about it under oath.
In a major victory for Judicial Watch, a federal court seems to agree with our analysis of this continuing scandal.
The ruling came courtesy of Judge Reggie B. Walton of the U.S. District Court for the District of Columbia in response to Judicial Watch's effort to obtain attorney's fees from the DOJ for stonewalling the release of documents pertaining to the Black Panther scandal. Here's the key quote from Judge Walton's ruling:
The documents reveal that political appointees within DOJ were conferring about the status and resolution of the New Black Panther Party case in the days preceding the DOJ's dismissal of claims in that case, which would appear to contradict Assistant Attorney General Perez's testimony that political leadership was not involved in that decision. Surely the public has an interest in documents that cast doubt on the accuracy of government officials' representations regarding the possible politicization of agency decision-making.

In sum, the Court concludes that three of the four fee entitlement factors weigh in favor of awarding fees to Judicial Watch. Therefore, Judicial Watch is both eligible and entitled to fees and costs, and the Court must now consider the reasonableness of Judicial Watch's requested award.
So, in short, this ruling is further confirmation that political appointees at the DOJ did interfere in the Black Panther case. Assistant AG Perez's testimony was false. And the American people have a right to documents related to the scandal. That's pretty much a clear-cut victory.
By way of review, this all started on Election Day 2008, when members of the New Black Panther Party stood guard at a polling station in Philadelphia, PA, brandishing weapons and threatening voters. A video of the incident was widely distributed on the Internet. The DOJ filed a civil lawsuit against the Black Panthers, but ultimately overruled members of its own staff and dismissed the majority of the charges.
The Black Panther lawsuit dismissal led to accusations of racism at the DOJ from within its own ranks. Former DOJ lawyer J. Christian Adams, who called the actions by Black Panthers, "the simplest and most obvious violation of federal law" he had ever seen during his career at the DOJ, resigned from his position as a result of the case dismissal.
Given the massive media attention earned by the Black Panther case dismissal, people started questioning whether or not the decision was politically motivated — including the U.S. Commission on Civil Rights.
The Commission, an independent, bipartisan unit of the federal government charged with investigating and reporting on civil rights issues, initiated a probe of the DOJ's decision to drop its lawsuit. During the hearing, Assistant AG Perez was asked directly regarding the involvement of political leaders in the decision to dismiss the Black Panther case.
And here's what he said in his testimony:
COMMISSIONER KIRSANOW: Was there any political leadership involved in the decision not to pursue this particular case any further than it was?
ASST. ATTY. GEN. PEREZ: No. The decisions were made by Loretta King in consultation with Steve Rosenbaum, who is the Acting Deputy Assistant Attorney General.
Wrong answer.
On September 20, JW released a draft Vaughn index prepared by the DOJ that shows that top political appointees at the DOJ were involved in the decision to dismiss the case. The index, which we acquired pursuant to a Freedom of Information Act lawsuit, describes documents the government is withholding from the public.
Included in the index was a description of a series of emails between Assistant Deputy Attorney General Steve Rosenbaum and Deputy Associate Attorney General Sam Hirsch. The back-and-forth emails occurred on April 30, 2009, the day before the case was dropped. Hirsch has been described by Slate magazine as a "DC election lawyer who represents a lot of Democrats" prior to joining the DOJ. Hirsch is also a former Obama donor.
Also among the documents were internal DOJ emails regarding the Black Panther case between former Deputy Attorney General David Ogden and the Associate Attorney General Thomas Perrelli, the second and third ranking officials at the DOJ.
Here's one example: A May 10, 2009, email from Associate Attorney General Perrelli to Deputy Associate Attorney General and former Democratic election lawyer Sam Hirsch. "Where are we on the Black Panther case?" Perrelli asks in the subject header. The email also includes Deputy Attorney General Ogden's "current thoughts on the case."
So what about the top ranking official at DOJ, Attorney General Eric Holder?
An email from former Acting Assistant Attorney General Loretta King, dated May 12, 2009, was distributed directly to Attorney General Eric Holder through Odgen and Perrelli. Entitled, "Weekly Report for the Week Ending May 8, 2009," the email "Identifies matters deemed significant and highlights issues for the senior offices, including an update on a planned course of action in the NBPP (New Black Panther Party) litigation."
Evidently Holder was in the loop as well. Okay, next question: What about the Obama White House?
Press reports indicated that at least nine meetings between Perrelli and White House officials between March 25 and May 27, 2009, regarding the Black Panther case. (JW filed a Freedom of Information Act (FOIA) lawsuit to get to the truth in the matter but were unable to find evidence of a direct White House link (not that Messrs. Perrelli and Hirsch needed to be told what to do).
So the Black Panther scandal, which we were told was managed by low level DOJ officials, might just go all the way to the very top.
Expect the news regarding this case to continue to reverberate.  The Court's decision is another piece of evidence showing the Obama DOJ is run by individuals who have a problem telling the truth.  And it shows that we can't trust the Obama DOJ to fairly administer our nation's voting and election laws.
We intend to continue to push for accountability.  Perez, who gave the false testimony, is a leading leftist at the DOJ who has taken the lead in the attacks on Arizona's immigration enforcement measures; attacks on election integrity measures such as voter ID; and the shakedown of financial institutions over dubious discriminatory lending allegations. (You can go to agency's Internet site to get the full breadth of Perez's hard Left agenda.)
Hans von Spakovsky, a former DOJ official now with the Heritage Foundation, has been following this issue closely and writes:
Where is the investigation by the Justice Department's Office of Professional Responsibility (OPR) of whether Perez violated his ethical and professional obligations as a DOJ attorney? Will the DOJ inspector general open an investigation of the possible violation by Perez of 18 U.S.C. §1621, which outlaws presenting false statements under oath in official federal proceedings? Or will they all respectively yawn and ignore this?
Imagine if a conservative political appointee at DOJ had just been cited in a federal court decision as having apparently testified falsely under oath. Not only would it be a top headline at The New York Times and The Washington Post, but the IG and OPR would be rushing to investigate. All of which is a sad commentary on the liberal bias not just of the media, but of too many of the offices and officials within the Justice Department who are supposed to administer justice in an objective, non-political, and impartial manner.
We will follow up, of course.  You should, too.  Contact the Justice Department, call talk radio, write letters to the editor of your local newspaper, call or visit your congressman (they're all back "home" now for a few weeks).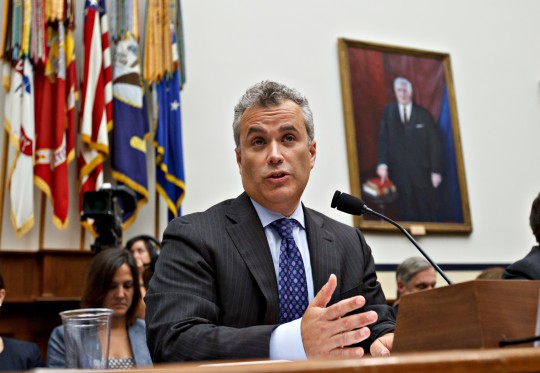 "Republican refusal to have the top two percent pay their fair share," a political jab that many members of the House Armed Services Committee (HASC) deemed offensive.
Jeffrey Zients, the Office of Management and Budget's acting director, surprised lawmakers by engaging in a partisan attack after Republican members of HASC demanded to know exactly how the Obama administration plans to stave off nearly $500 billion in mandatory defense cuts known as sequestration.
"What is holding us up right now is the Republican refusal to have the top two percent [of earners] pay their fair share," Zients said in response to a question from Rep. Randy Forbes (R., Va.).
"The root cause problem here is the Republican refusal to ask the top two percent to pay their fair share," he reiterated, much to the surprise of several committee members who slammed Zients for turning a practical hearing aimed at preventing catastrophic defense cuts into a partisan blame game.
Zients' partisan remarks appeared to shock Rep. Mike Turner (R., Ohio), who chastised the Obama administration for showing a lack of seriousness about a series of cuts that will shrink America's military and imperil the country's national security.
"We're not usually in the habit of hearing such partisan comments in what is really a bipartisan committee," Turner said. "We don't usually hear people throw around 'Republican' and 'Democrat,' but you have, very, very well. I want to commend you on your broken record of partisanship."
"Zeints' comments are pretty brazen in light of the $800 billion in wasted taxpayer dollars that was supposed to (but didn't) stimulate the economy and which were, in effect, paid for by $800 billion in defense cuts," said Gary Schmitt, resident scholar at the American Enterprise Institute. "And is he really suggesting the country's national security be put at risk because the administration want to raise taxes (on more than the top 2 percent) in order to save PBS, Amtrak, and the Education Department?"
While Congress is responsible for finding nearly $1.2 trillion in budget cuts in order to avoid the sequester, lawmakers chastised Zients and the Obama administration for failing to push Congressional Democrats into a reasonable bargaining position.
"The president has the full responsibility for sequestration, having endorsed it and then signed it himself," Turner said. "You have no plan."
"It is stunning that the White House is willing to hold our men and women in uniform hostage to their desire to raise taxes," said Jamie Fly, executive director of the Foreign Policy Initiative. "Congressional Republicans have laid out a specific plan for fixing current law to avoid this impending nightmare scenario. The White House has not offered any specific proposals and seems only interested in playing politics with America's national security."
Lawmakers also challenged Zients on a recent Department of Labor (DOL) memo that may have instructed defense contractors to break a law known as the Worker Adjustment and Retraining Notification (WARN) Act.
The Monday memo suggested government contractors delay issuing more than 10,000 pink slips to employees, a move that could leave them vulnerable to expensive labor lawsuits under the WARN Act. That law requires companies to notify their employees at least 60 days in advance (or 90 days in some states) that their jobs may be cut during periods of mass layoffs.
DOL maintains that the act is not applicable because sequestration is not a certainty—a viewpoint that led critics to accuse the administration of election year posturing.
Rep. Howard "Buck" McKeon, HASC's chairman, recounted the worries of leading defense industry officials, most of whom do not want to leave their companies vulnerable to costly lawsuits.
"This is the law of the land and we have an obligation to" ignore the administration's advice and follow the law, McKeon recounted the industry leaders as saying.
"They all believe that layoffs are reasonably foreseeable and the WARN Act applies, so why do you disagree with them?" McKeon asked Zients.
"Clearly, the companies you just talked about need to absorb this guidance from the DOL, which is very clear," Zients said, failing to acknowledge industry concerns.
Rep. Turner also chastised DOL's advisory on the WARN Act.
"The statement by the DOL that people need not give WARN notices has no effect," he said. "It's not worth the paper it's printed on. It might be the desire of the administration" to avoid massive layoffs in the run-up to the election, "but it's a fiction."
Zients went on to explain that if the sequester becomes reality the administration will be prepared to carry out painful defense cuts.
"We will be ready at DOD and across the government if unfortunately Congress doesn't do its job," he said. "There is more than enough time for us to be ready for the unfortunate possibility of January 2 coming to be. We will be ready."
Others in attendance at the hearing avoided the partisan skirmish by focusing on the potentially disastrous result of the looming sequester.
Military families and veterans, for instance, would see their medical benefits slashed in certain instances, according to Deputy Secretary of Defense Ashton Carter, who testified beside Zeints.
"We could be forced to cut back on base support services, facility maintenance, and maintenance of government owned family housing," Carter said. "Commissary hours might have to be reduced [and] funds for the Defense Health Program, which provides health care for retirees and military dependents, would be sequestered, resulting in delays in payments to service providers and, potentially, some denial of service."
Massive cuts would additionally scale back the military to what Carter and others have described as unsafe levels.
In a worst case scenario, sequestration would shrink the U.S. Army from 560,000 troops to fewer than 490,000; the Marines from 202,000 to fewer than 182,000; the Navy from 325,000 to fewer than 322,000; and the Air Force from 333,000 to fewer than 330,000, according to statistics provided by the Reserve Officers Association (ROA).
"This is not a political move," Plouffe said of Obama's attempt to court the critical Hispanic vote.
Another of Plouffe's comments was equally controversial. Plouffe maintained that Obama's action was "fully within" the President's authority.
Plouffe's comments brought to mind a Supreme Court case during the Nixon administration in which the Supreme Court unanimously ruled that Nixon could not refuse to disburse aid money Congress had appropriated to the states.
While Obama's executive action may not be legally the same as Nixon's lack of action that was struck down, it is very similar in spirit.

As the liberal constitutional law professor Jonathan Turley said, in comments to Politico, "The president is using executive power to do things Congress has refused to do, and that does fit a disturbing pattern of expansion of executive power under President Obama.
"In many ways, President Obama has fulfilled the dream of an imperial presidency that Richard Nixon strived for … This is a president who is now functioning as a super legislator. He is effectively negating parts of the criminal code because he disagrees with them. That does go beyond the pale."